About Ron Kirk Joinery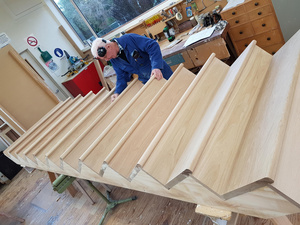 Ron Kirk Joinery is a family-owned and operated business that's been established in Dunedin since 1990. Ron, Hayden's father, started the joinery business, based on quality workmanship and long-lasting materials. Since then, technology has changed, but quality custom joinery has not.
A business that has passed from father to son, Hayden and his wife Rachael became owners of the business in 2011. Now, Ron Kirk Joinery uses modern technology, with CNC machinery, CAD and CAM software to ensure accuracy and precision, while still using the same tried and tested quality materials to create long-lasting kitchens, bathrooms, and custom cabinetry. With the latest in technology, customers can now get a real feel for their project, before the build has started. Ron Kirk Joinery also has a vast array of traditional machinery for all timber and hand-crafted projects.
Ron Kirk Joinery works with architects, builders, and tradesmen throughout Dunedin and can arrange their services if required.
Choose a Dunedin Master Joiner and JMF Approved Manufacturer
Ron Kirk Joinery is a member of the Master Joiners, so all work is covered by the Master Joiners ten-year guarantee (terms and conditions apply). Ron Kirk Joinery is also a JMF NZ Affiliated member, which means Ron Kirk Joinery builds NZS4211 compliant timber joinery. This gives our customers extra peace of mind when it comes to timber exterior windows and doors. In Dunedin, it's important to use a JMF approved manufacturer to ensure timber joinery will get signed off by the local council if the project has a permit for consent.
Hayden Kirk - Owner
Hayden has been a joiner by trade for over two decades. He joined Ron Kirk Joinery in 1998 as an apprentice and received his national qualification as a joiner. He's a details orientated person, always looking to make things better by really putting thought into his projects. It's always exciting to see jobs run from concept to design, to a completed project, with a happy client at the end of it. For Hayden, when it comes to joinery, it's often about quality. Quality will remain, long after the price is forgotten, and quality is what will make a kitchen or high-use area stand the test of time.
With over 20 years in the industry, Hayden has worked with a wide variety of architects, designers, builders and industry professionals throughout Otago. He enjoys the design process and has over 15 years' experience with CAD software and more recently, a few years with CAM software.
Training and mentoring apprentices is always a rewarding process and Ron Kirk Joinery normally has at least one apprentice in training.
Hayden enjoys owning and managing his own business. It means he can diversify into other avenues and he has the freedom to make meaningful decisions about the business. Outside of work, you'll find Hayden enjoying family time, watching the kids play sports, playing golf or mountain bike riding.
Rachael Kirk - Owner
Starting in 2012, Rachael stepped into the administration and accounts role and it fits in well with family life allowing Rachael to be home during school holidays, watch school sports and activities and participate in family time.
In her role, Rachael does a lot of general administration including email, invoicing, receipts, banking, and more. She brings a positive attitude to everything she does and when she's not busy with the family or helping with the business, you'll find Rachael taking her dog for a walk on the beach or relaxing with a book.